On June 11th, international students from Hohai University participated in the calligraphy salon organized by the Memorial Hall of Victims of Nanjing Massacre by Japanese Invaders to celebrate Cultural and Natural Heritage Day.
The piano sounds curled up at the scene, ink, paper and ink stone were available. More than 10 Chinese youth representatives and nearly 20 foreign youth representatives from the United States, South Korea, Thailand, Pakistan, Ecuador, Liberia and other countries visited the "Exhibition of Historical Facts of Nanjing Massacre" at first, and then, under the guidance of Yang Tianci, a member of Chinese Calligraphers Association, learned to write the word peace in Chinese calligraphy.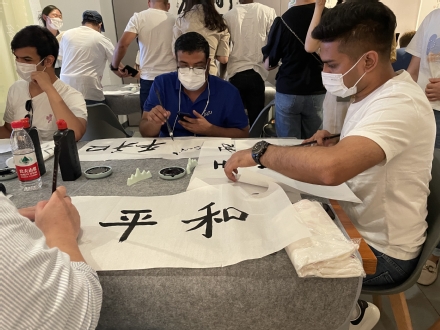 OLANO TEAH BLOH, a Liberian international student in Hohai Unversity, said, "Peace in Chinese means that all of us are together. This is the foundation of a better life. I am very happy to participate in this activity, and look forward to learning more knowledge in China. After returning home, I will share the beauty here with my peers and build a peaceful future together."