From December 4 to 5, 2021, the B&R Youth Outdoor Sports Challenge of the 2021 B&R Youth Sports Exchange Week (Jiangsu) kicked off in Nanjing. Ten overseas students from 7 countries along the Belt and Road attended the activity. Upholding the principle ofFriendship First, Competition Second, overseas students of Hohai University participating in the activity worked hard and forged ahead bravely to achieve good results. During the three outdoor sports events, they have won the first team prize in curling, the second team prize in frisbee and baseball. Moreover, our University was rewarded with the best organization award.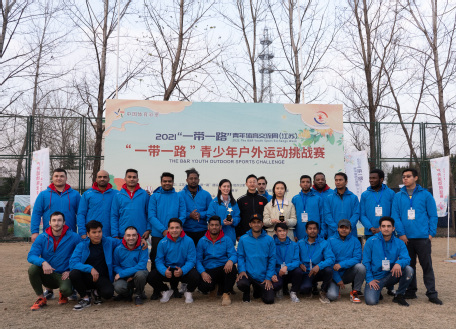 The 2021 B&R Youth Sports Exchange Week (Jiangsu) is guided by the Office of the Leading Group for Promoting the Construction of the Belt and Road Initiative in Jiangsu Province, jointly hosted by Jiangsu Provincial Sports Bureau, Jiangsu Education Department, and Foreign Affairs Office of Jiangsu Provincial People's Government, and undertaken by Jiangsu International Sports Exchange Center and Jangsu Mountaineering Association (JSMA). Themed Sports ignite passion, make the dreams of youth fly, carry forward the spirit of the Silk Road, and build a better tomorrow together, the Sports Exchange Week has attracted 209 international young people from 62 countries and regions along the Belt and Road, who have been working and studying in Nanjing for a long time.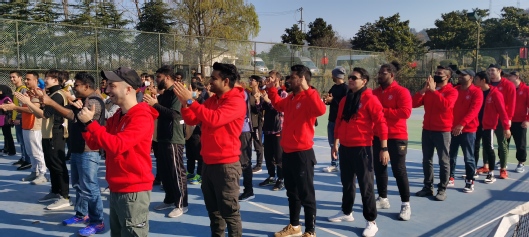 Taggie, a Kazakhstan student of our University was invited to deliver a speech at the opening ceremony on behalf of all foreign participants in the activity. He appreciated the organizers' efforts in organizing the activity, which has provided a valuable opportunity for friendly dialogue and peaceful coexistence among the global youth. He was impressed by the Chinese government's effective prevention and control measures against the COVID-19 pandemic, and its significant contributions to helping other countries fight against the pandemic, stabilize the economy and improve people's living standards through working together with countries and regions along the Belt and Road. Meanwhile, he called for the young people of all countries to seize the opportunity to participate in sports exchanges, advocate and promote the Belt and Road Initiative, and make their due contribution to the peace and progress, as well as prosperity and development of the world. The overseas students of our university also performed Ba Duan Jin, a form of qigong, at the opening ceremony.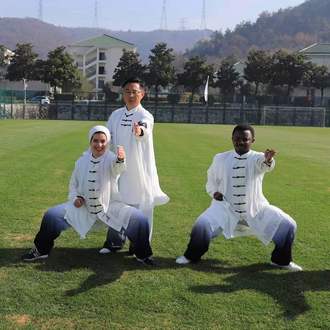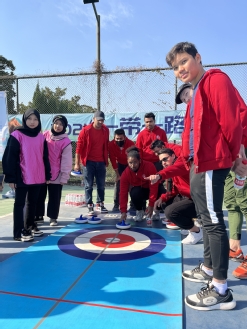 In addition to outdoor sports events, the organizers also arranged a variety of cultural visits to build an international, innovative and developmental youth sports exchange platform featuring the Belt and Road Initiative. These cultural activities not only enriched the sports life of overseas students, but provided them with an opportunity for appreciating the unique culture and customs of Nanjing.
(Text by: 杨颖 Photo by: Jiangsu Provincial Sports Bureau)