关于中国政府奖学金延期的通知
各位中国政府奖学金生:
奖学金期限于2019年7月到期,但由于各种原因无法按期毕业的中国政府奖学金博士研究生,请填写《中国政府奖学金延长学习期限申请表》。表格请从国教院网站上下载(http://ie.hhu.edu.cn/p7352c7344/list.htm)。
请注意,需提醒导师在申请表中相应栏目就申请人学习态度、表现、中期考核及开题报告情况签署意见,并签字、盖学院公章。奖学金生还应向其本国派遣部门提出申请,并提供派遣部门出具的延期同意证明。
根据国家留学基金管理委员会通知,以下学生不能申请延期:
(1)非博士研究生;
(2)学习态度不认真,没有通过中期考核及开题报告的;
(3)未参加或没有通过奖学金年度评审的;
(4)之前已经提交过一次延期申请的。
请按要求填好表后,将相关材料于4月30日前提交国际教育学院教务办(西康路校区101办公室)。
国家留学基金委一般于7月份公布是否同意延期。
国际教育学院
2019年4月17日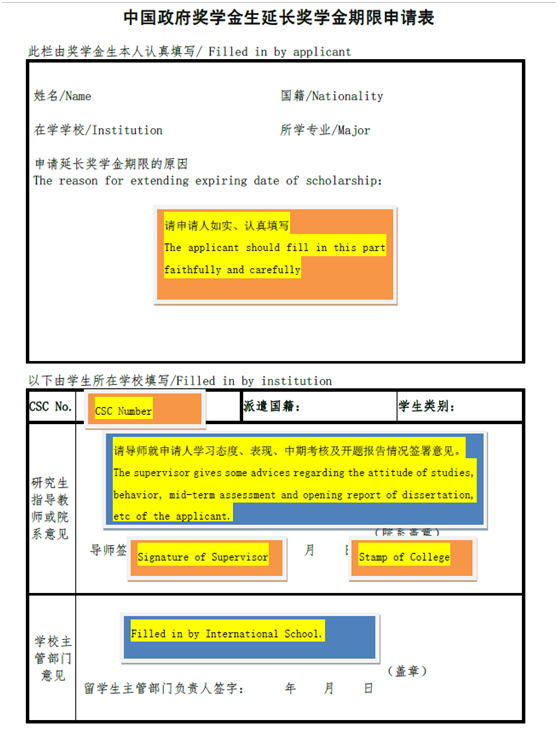 Notice on the Extension of Chinese Government Scholarship
Dear CSC scholarship students,
If you are a doctoral student and your CSC scholarship will be ended in July 2019, but due to some reasons, you can't graduate on time, you can apply for the extension of scholarship. Please fill in the "Form for Chinese Government Scholarship Extension", which you can download from our website(http://ie.hhu.edu.cn/p7352c7344/list.htm).
Please remind your supervisor to give some advices regarding the attitude of studies, behavior, mid-term assessment and opening report of dissertation, etc of the applicant in the form, and get the stamp from your college. You should also get the agreement from the agency which you applied the scholarship.
The following students CANNOT apply for extension according to the notice from CSC,
1. non doctoral students;
2. the attitude is not serious, failure to pass the mid-term assessment and/or the opening report of dissertation;
3. failure to take or pass the annual review of scholarship;
4. those who has already submitted the extension before.
Please submit the filled form and related documents to the academic office of International School (Rm. 101 of Xikanglu Campus) before April 30.
CSC usually publishes the results of extension in July.
International School
April 17, 2019